What is Image Metadata
Image metadata refers to digital tags embedded in photos. Such tags store technical, descriptive and administrative information about the photos.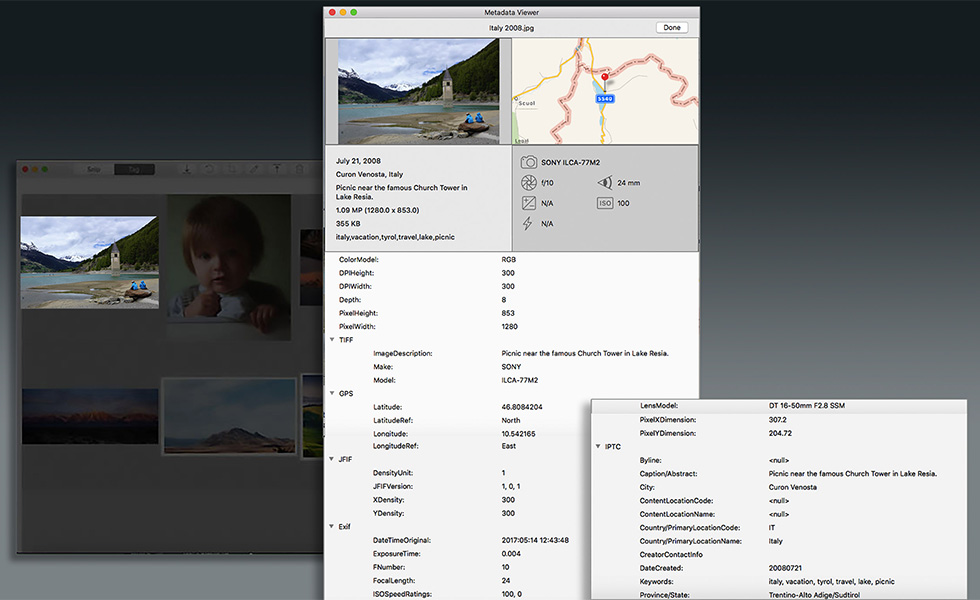 There are different types of image metadata:
EXIF metadata
This is technical information about photos. Digital cameras automatically add this, such as camera model, aperture, focal length and shutter settings. Also GPS data, file size and date. You should generally not modify it.
IPTC metadata
This is descriptive and administrative data. You must input this manually. IPTC standards define hundreds of tags for this purpose.
Amateur photographers only need a few tags. Such as: date, location, description and keywords.
In addition, professional photographers can also add administrative tags. These include personal profile, licensing and copyright information.
For more, see https://iptc.org/standards/photo-metadata/photo-metadata
XMP metadata
This incorporates IPTC data and edits-related information. And often, this is saved in a separate sidecar file.
Why should you use metadata?
Metadata in photos has many benefits:
It makes the pictures instantly findable. Photo programs use it in searches, and they don't just search by keywords. So anything you've added in any metadata field can help.
Shooting parameters hold clues to what separates a good photo from a mediocre or bad one. Therefore, EXIF information can be a great learning tool.
Metadata is very important for photos used in websites. Meta title, description and keywords help in Search Engine Optimization. They tell search engines what a photo is about. Therefore, pages containing metadata-rich photos rank higher in search results.
Photographers can add contact and copyright info into metadata, e.g. to assert intellectual property rights.
How to view and edit image metadata?
Use SnipTag app for Mac to add and edit image metadata. You can do it by typing or dictating. Visit SnipTag website to learn more and get a free trial.